When you're ready to refresh your greater Cleveland home, one of the most important questions you could ask is, "How much does it cost to renovate a house in Cleveland?" You'll want to get a sense of the numbers before you venture into your project. But the actual cost of a home remodel is a very specific number determined by the homeowner's goals, the size, structure, and architecture of the house, the scope of the remodel, and the quality of the materials and craftsmanship. In reality, you'll only receive an accurate quote from a direct conversation with your home remodeling company.
So, until you get to that point, consider some basic estimates for common home remodeling projects. These figures from the 2022 Cost vs. Value Report can serve as the basis for your budget preparations. But they certainly don't restrict you to a particular kind of Cleveland home remodel. When you work with the right home remodeling company, you can establish a budget that accommodates all your priorities and guarantees that you love the home you live in.
Contents:
Home Remodeling Cleveland Costs: How Much Does It Cost to Remodel a House in Cleveland?
You can remodel a house in many different ways. Some of the most popular home remodeling projects include additions, kitchen remodeling, and bathroom remodeling.
Additions like primary suite additions are extensive home remodeling projects. Therefore, they require extensive planning and budgeting.
Cleveland Upscale Primary Suite Additions
Increasing the square footage of your house enables you to maximize the return on your investment in your house as well as the return on your enjoyment of your house.
To help you visualize the possibilities and potential costs for a primary suite addition, the Cost vs. Value Report provides a quote of $344,885 for upscale primary additions in the Cleveland area. The associated resale value is $122,411, which is a 35.5% cost recoup. This quote from the report refers to a 32×20 foot primary bedroom suite over a crawlspace that includes features such as a sleeping area and lounge with French doors, custom bookcases, built-in storage, and a high-end fireplace with a stone hearth and custom mantel.
The sleeping area connects to a walk-in closet with linen storage as well as a bathroom. The bathroom contains a custom frameless glass enclosed walk-in shower with a dual shower system and stone walls and flooring, a freestanding soaker tub, a custom dual vanity with stone countertops, and a partitioned area for a luxury one-piece toilet.
The estimate also encompasses a 5-foot-long hospitality bar with a sink, microwave, refrigerator, custom cabinetry, and stone countertops. The upscale space the Cost vs. Value Report envisions also accounts for soundproofing, in-floor heating, lighting, and custom finishes.
The cost of your Cleveland addition will vary to ensure your satisfaction. However, no matter where your addition is built or who builds it, three major costs will drive construction: the selections, size, and access. The best Cleveland home remodeling companies help you understand exactly where your money is going while also giving you plenty of creative budgeting control. That way, your addition will change your life for the better.
Cleveland Kitchen Remodeling Costs: How Much Does It Cost to Renovate a Kitchen in Cleveland?
Every Cleveland kitchen remodel is different, but understanding the typical investment in such a transformative project is valuable. The Cost vs. Value Report presents the price of $151,358 for an upscale Cleveland kitchen remodel conducted on a 200-square-foot space with 30 linear feet of cabinetry. The resale value for this quote was $74,484, which is 47.8% recouped.
Upscale Major Kitchen Remodel
The report's example of an upscale Cleveland kitchen remodel utilizes luxurious materials to complete a thorough renovation. The upgrades include top-of-the-line custom cabinets with built-in sliding shelves and other interior accessories; stone countertops; an imported ceramic or glass tile backsplash, a high-end under-mount sink with designer faucets and a water filtration system; a built-in refrigerator, commercial-grade cooktop and vent hood, a wall oven, and a built-in microwave, new lighting, and tile or a similar wood-look flooring.
The average costs of kitchen remodels vary greatly depending on several significant factors such as:
The number of walls to be modified
Whether those walls are interior, exterior, load-bearing, or non-structural
Materials selected
Square footage of the work areas
The difficulty of access to the project
In the end, the condition of your existing kitchen, your distinct needs and desires, and the materials and equipment you select will determine the final cost of your personal kitchen remodel.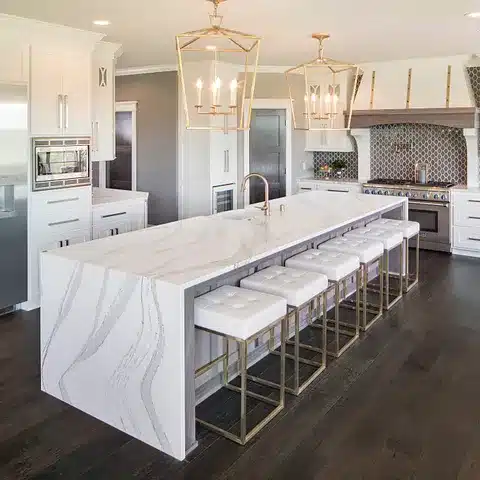 Cleveland Bathroom Remodeling Costs: How Much Does It Cost to Renovate a Bathroom in Cleveland?
Different types of bathroom remodels address different needs. If you're lacking enough bathrooms in your home, you could benefit from a bathroom addition. Or if one of your bathrooms is no longer suitable, it could use a bathroom remodel. In the event that your abilities change, you could preserve your independence by applying universal design to your bathroom.
No matter the kind you undertake, a bathroom remodel enhances the quality of your life and increases the value of your home. A bathroom remodel is a worthy investment, so you'll want to budget for it appropriately by establishing realistic expectations for the price of labor and materials. The figures for these examples of bathroom remodels let you do just that.
Upscale Bathroom Addition
The Cost vs. Value Report supplies insight into the price of an upscale bathroom remodel with a quote of $$110,780 for a new 100-square-foot primary bathroom added to an existing primary bedroom over a crawlspace. This sort of bathroom addition has a resale value of $47,680, which is 43%.
The upscale Cleveland bathroom addition the report describes features a 42×42-inch neo-angle frameless glass shower with ceramic tile walls, an accent strip, a recessed shower caddy, body-spray fixtures; a freestanding soaker tub with high-end faucets; a dual vanity with stone countertops and two mirrored medicine cabinets with lighting; custom cabinetry; a compartmentalized commode area with a one-piece toilet; large ceramic tile flooring and in-floor heating; an extended HVAC system; and general and spot lighting.
Upscale Bathroom Remodel
The report also shares a quote for an upscale bathroom remodel that expands an existing 35-square-foot bathroom to 100 square feet within the existing house footprint. For an upscale Cleveland bathroom remodel like the one the report discusses, the cost is $79,960 with a $40,034 resale value of 50.1%.
This bathroom remodel also consists of a frameless glass 42×42-inch neo-angle shower with ceramic tile walls, an accent strip, a recessed shower caddy, body-spray fixtures; a freestanding soaker tub with high-end faucets; a one-piece toilet in a compartmentalized commode area; a dual vanity with stone countertop; custom cabinetry; lighted medicine cabinet mirrors; large ceramic tiles flooring with in-floor heating; general and spot lighting; and an extended HVAC system.
Universal Design Bathroom Remodel
A bathroom boasting universal design is accessible to people of all ages and abilities. If you need a bathroom that accommodates people at different stages in life, you should work with a home remodeling company that has a Certified Living In Place Professional (CLIPP) on staff. A CLIPP is fully qualified to remodel your bathroom according to universal design.
And the Cost vs. Value Report can give you an idea of how much a universal bathroom design remodel could cost. The report lists a quote of $40,406 for a Cleveland universal bathroom design bathroom remodel. This figure has a resale value of $23,001, which is 56.9% of the original price point.
According to the report, a universal bathroom design in Cleveland could involve updating an existing 5×7-foot space to be wheelchair-accessible. Other changes the report mentioned were installing flat-panel electrical switches at sitting level; bringing in a comfort height toilet; creating a curbless, tile, walk-in shower with an adjustable showerhead, fold-out seat, thermostatic mixing valve, and a bi-directional glass door; laying new luxury vinyl tile flooring with electric radiant flooring underneath; inserting an adaptive living vanity with easy-grip handles and an adjustable mirror; putting ceramic tiles with two contrasting color stripes on the walls; positioning grab bars throughout the space; and layering with space with assorted lighting.
Universal design recommends some standard adjustments to living spaces, but a CLIPP is able to understand your lifestyle and prescribe the best renovations for you. They will tailor your universal design remodel to you and your budget so that you can live in place or age in place successfully.
Northeast Ohio Home Remodeling Costs: How Much Does It Cost to Remodel a House in Northeast Ohio?
Northeast Ohio home remodeling costs vary slightly from Cleveland home remodeling costs. Depending on the city you live in, your Northeast Ohio home remodeling cost could be slightly lower or higher than those in Cleveland. However, home remodeling projects in Northeast Ohio generally are a little more expensive than in Cleveland.
Northeast Ohio Upscale Primary Suite Additions
The Cost vs. Value Report reveals that an upscale primary suite addition in Northeast Ohio can cost $355,627. The resale value of that kind of Northeast Ohio primary suite addition is $159,939, which is a 45% return on investment.
Northeast Ohio Upscale Kitchen Remodel
An upscale major kitchen remodel in Northeast Ohio averages $156,104 with a resale value of $81,699, which is an ROI of 52.3% of that.
Northeast Ohio Upscale Bathroom Addition
In Northeast Ohio, totals for an upscale bathroom addition average $114,237. A resale value of $57,380 recovers 50.2% of the initial investment.
Northeast Ohio Upscale Bathroom Remodel
For a Northeast Ohio upscale bathroom remodel, the mean cost is $82,288. At that price point, the resale value is $44,133, which is 53.6% of the expense.
Northeast Ohio Upscale Universal Design Bathroom Remodel
Typically, a universal design bathroom remodel in Northeast Ohio amounts to $42,234. With a $23,872 resale value, this kind of bathroom remodel recoups 56.5% of funding.
Home Remodeling Cleveland with Capozzi
We share these estimates to give you a rough idea of the cost of home remodeling in Cleveland and the cost of home remodeling in Northeast Ohio. However, the best way to secure an accurate quote for your Cleveland home remodel is to speak with your home remodeling company. A design-build home remodeling company like Capozzi Design Build can present you with more exact price points sooner than a separate architect and builder can because the entire team responsible for your remodel is under one roof.
And at Capozzi, design is a process. We are professional home designers who listen intently to you in order to fully understand your lifestyle and your priorities. You may have needs and wants for your remodel that are equally important to you, and we can ensure that your budget covers all of them. We want you to love the house you live in. So, we deliver remodels that change lives. Contact us today to start your own exquisite design process.